Our Cars
YUGANT
"Yugant" may represent the end of gasoline-powered cars and the dawn of Eco-friendly transportation. It represents the transition to renewable energy which may stimulate development, innovation, and sustainability. It also implies longevity, durability, and the end of an era and the start of a sustainable one. From the research phase to getting YUGANT on track, every team member imagined, coordinated, and constantly battled until the perfect result was achieved.
MAHIL
The Hard work of Team to give shape to ideas to achieve the best work ever, paid of in 2019. Justifying the Name given, Mahil succeeded in securing the First Rank in Shell Eco-Marathon, India 2019. By knocking an unbelievable mileage of 270 KmpL. Mahil was the first prototype to complete the technical inspections at the event among 23 other teams, Winning the Safety Award, setting a benchmark and motivation for Team.
TRITON
Keeping the legacy of it's previous prototype intact, Team ETA stood up to it's name with their latest and most advanced prototype Triton. Engineered to perfectio, this prototype was the first one from India to participate in Shell Eco Marathon Asia 2017, Singapore having a carbon fiber monocoque structured body.
ARYA
Participated in Shell Eco Marathon Asia 2015, Philippines. This first prototype of Team ETA to have a carbon fiber shell to improve aerodynamics along with a aluminum space frame for strength and rigidity. This prototype not only stood 5th in Asia, but also helped to officially mark ourselves the best team in India with an astonishing mileage of 153 kmpl.
J-14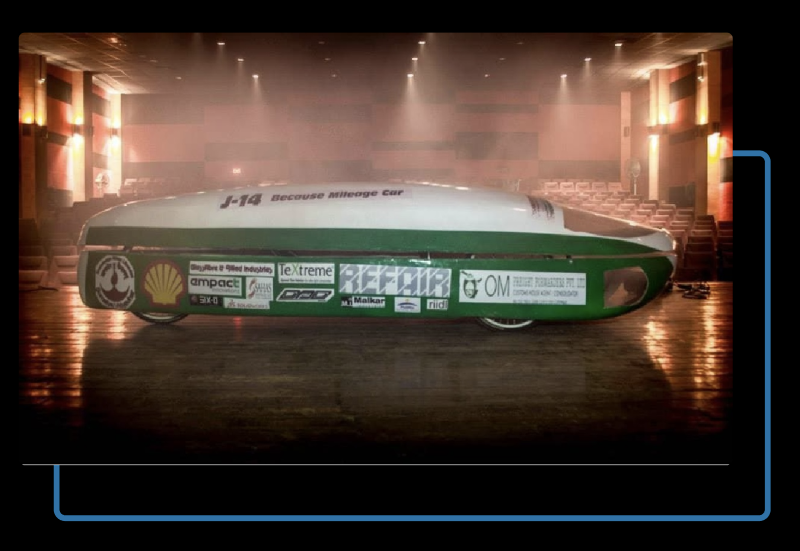 The successor of the '13 prototype J-14 with not just an improved design but with a glass fiber body shell along with the saffron -white - green aesthetic design representing the Indian tricolor was the highlight of the prototype.
JUGAD
JUGAAD, was the first prototype built by Team ETA. Participated in Shell Eco Marathon Asia 2013, Malaysia this sheet metal prototype was designed with sheer determination and innovation and hence named, Jugaad.